Product
Carbonated Soft Drinks
PET, Glass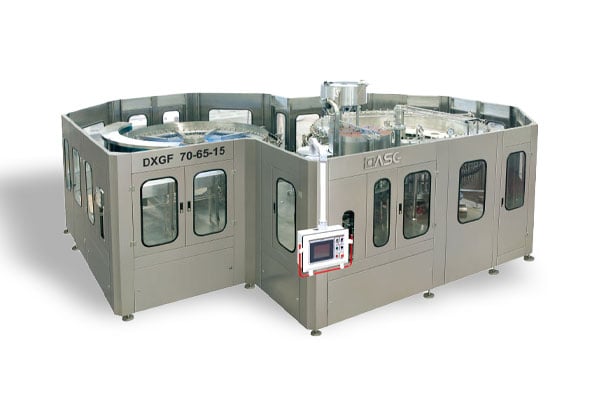 DXGF
Introducing ASG's DXGF Model - the epitome of precision and efficiency in carbonated beverage bottling. Elegantly combining automated, aesthetic, and user-friendly features, this machine is designed to reduce labor while boosting production efficiency. With the DXGF, adaptability meets anticipation, offering smooth transitions between various bottle sizes and an adjustable equipment height. Crafted with food-grade stainless steel and innovating with 3-in-1 technology, it ensures a hygienic and dynamic production flow. Experience unmatched filling accuracy, secured by a CIP circuit, and a magnetic torque device, guaranteeing the quality of your beverages from filling to sealing. All these, controlled via a clear, intuitive touch-screen, ensuring your operational excellence is effortless and just a touch away.
Technical Details
500ml (PET Bottle)
| | DXGF |
| --- | --- |
| Output capacity (bottles per hour) | Up to 32,000 BPH |
| Number of filling valves | Up to 80 |
| Suitable bottle diameter | Φ=50-100 |
| Efficiency | Up to 98% |
| Products | Sparkling water, carbonated soft drinks, etc |
| Filling methods | Mechanical valve filling, flow meter filling, weighing filling |
| CIP | Auto CIP with dummy cups |
| HEPA Filter | Reduced filler environment under positive pressure |
| Combi System | Integrate with the MX Blower to form the DXGF Combi System |
Contact
We are here to assist you.
Do you have questions about our company or our various products and services?